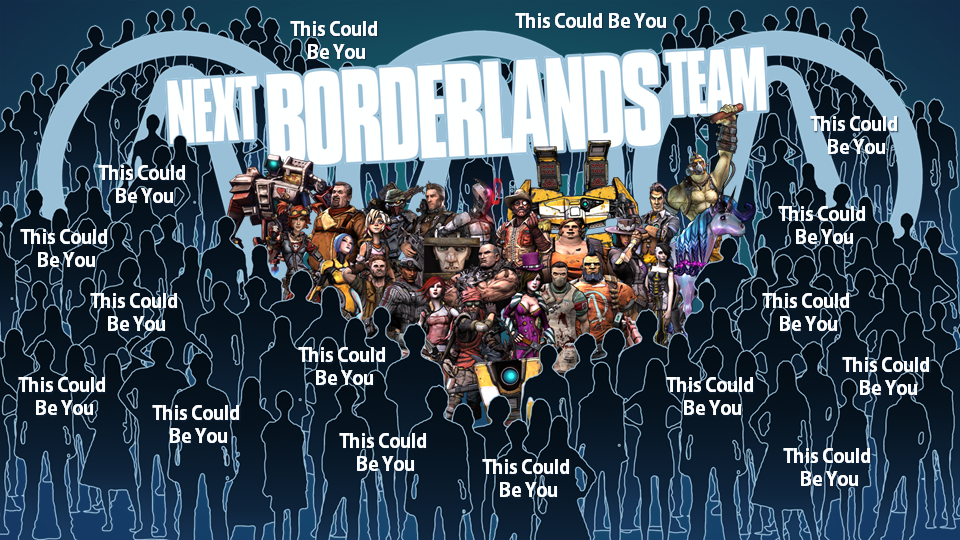 Image from from Randy Pitchford's Twitter
After being practically the only developers to announce something at PAX South, Gearbox have now released even more newsworthy stories, so I give them my thanks for actually giving me something to write about today. It was either this or talking about some guy buying a PS4.
So the first piece of news, which you can see above, came from Gearbox's Randy Pitchford, who announced on
Twitter
that the developers are "recruiting for the next Borderlands" AKA Borderlands 3. This means that it's definitely NOT in development, (Probably in the PITCHing stage) but this is the closest we have to an official announcement.
Keeping on the topic of Borderlands, Gearbox have announced a new character for The Pre-Sequel
on their website
: Lady Aurelia the Baroness (Sister of Sir Hammerlock), who will become available in 2 days (1 if you're in the Land of the Free). She has three skill trees, centered on sniping, ice damage and getting points from your teammates' kills. Along with the new character, you get a set of missions taking place inside Claptrap's brain, so that'll be interesting.
Last of all, Gearbox released a
new trailer
for their remake of Homeworld 1 and 2, which'll be launchcing on Steam next month on February 25th. The remake gives the original a new lick of HD paint, a combined Homeworld 1 and 2 PVP mode and access to Gearbox and Blackbird Interactive's Homeworld Shipbreakers' beta.
Are you excited by any of these announcements? Tell us in the comments! Also, if you're applying for a job at Gearbox, mind being an informant?