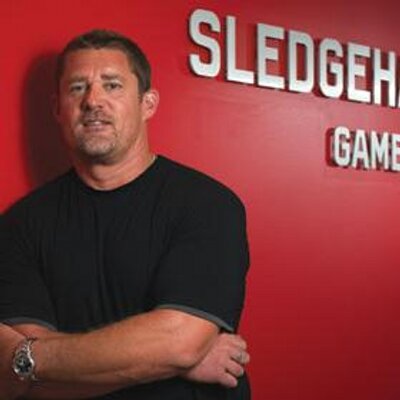 Image from www.twitter.com
"This guy finna kick yo little punkasses" (Glen Schofield, Sledgehammer Games Co-Founder/OG)
Overused joke-related news today, as some new Call of Duty: Advanced Warfare gameplay and new features were leaked by a Twitch user during a livestream, which has since been taken down. However, Advanced Warfare-centered YouTuber
TmarTn
(Who has such compelling videos as "ALL GUN CAMOS IN ADVANCED WARFARE!!!") relayed some of those leaked details, including a new killstreak reward for the dedicated pre-pubescent that can kill 30 people without dying: the DNA Bomb. This bomb kills all enemies on the map, then leaves green clouds that roll away.
Insert "Oh Baby, a triple!" "MOM! Get the camera!" or even ILLUMINATI CONFIRMED if you still think putting triangles on everything is a viable form of comedy.
However, the best part of this story (If you weren't already excited enough) was the response by Glen Schofield, position previously mentioned, on
Twitter
, involving a hella lotta numbers. In a nutshell, he expressed his anger at the leaker, saying that it was "a bummer". Still, for any of his dedicated Vine followers worried about this loss of morale affecting his content, he quickly quelled those doubts. Basically he'll still do his much-adored vines.
This raises the question: Is leaking right? Sure, the obvious answer is no, as it means there's less to discover in the game, and maybe the developers were keeping secrets for a reason; to give people a surprise. Then again, in an age where games get dozens of trailers before release, why shouldn't the fans get all the info they want? It means that they can decide whether the game is for them. If you bought a game to see what it was like because you hadn't have known much about it, you may not have a good experience, but the company still makes a sale. The more information released, the easier it is to decide whether to buy a game, but it also means that the audience may shrink a little if there's a feature not to their liking.
What do you guys think? Has this leak affected your decision on whether to buy Advanced Warfare? Tell us in the comments below!